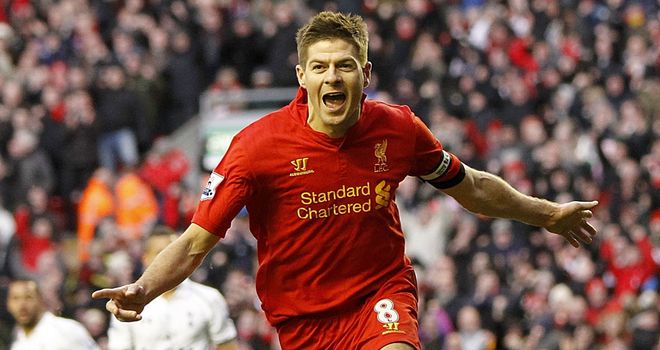 Liverpool has confirmed that captain Steven Gerrard has signed an extension to his contract which will keep him at Anfield for the next two seasons at least.
The 33-year-old England midfielder has spent his whole career at Liverpool and has clocked up 630 appearances for the club so far, scoring 159 goals.
He signed his new deal at Melwood on Monday morning and is delighted that it has been sorted out before the start of the 2013/14 campaign.
"I think everyone knows what it means to me," said Gerrard.
"It lets me know the club thinks an awful lot of me and want me here. There was a year left (on my contract), which was quite unusual, I think it was the first time I've got that far down into a contract.
"I'm glad it's all done and it's happened at the right time, before the season, so I can just focus on playing as well as I can."
Managing director Ian Ayre added: "It's fantastic for everyone; the club, Steven, and the fans.
"He is, and always has been, such a big part of Liverpool Football Club. Particularly in this day and age, it's rather unique to find a local player who has given his whole career to his club.
"We're pleased today to add an extension to his existing agreement and that keeps him here until the end of his career.
"We've said that what we'll do in two years' time is review it again and see how happy Steven is. We seem to always be happy with him, so hopefully we'll just continue in that vein."
Gerrard made his debut for Liverpool in 1998 and has won the Champions League, UEFA Cup, FA Cup twice and League Cup three times during his time at the club.
Hugely popular with the club's fans, he said: "I hope they're really happy (about his extension).
"The relationship is mutual. They have respect for me and they know how much I love them, so it's a two-way thing.
"People talk about my loyalty to the football club, because I've been here all the way through, but the club have been very loyal to me throughout my career and always rewarded me at the right times with deals.
"They've always told me what they think about me and that's very important as a footballer, to know that you're loved."