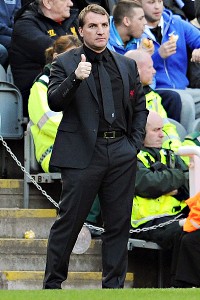 Brendan Rodgers is still learning. That, an admission from the Liverpool manager himself this week, is confirmation of something evident to all in the early days of his Anfield career. Whether he truly has learnt over the past nine months, and what has been learnt in that time, is a debate set for the summer. It will take months to conclude -- there is little need to start it prematurely.
But the acknowledgement alone shows that Rodgers' first season has been an education of some sort: honesty is always appreciated more than gasconading and glorifying, after all. The Northern Irishman has been keen to label good players as great and to call promising performances as exceptional -- but that penchant to aggrandize has now become an acceptance of flaws this season, painting a picture of mortality and the fragility that accompanies being Liverpool manager.
How fragile Rodgers must have felt at times this season, even if there was no discernible sign of it. To be regarded as a worthy Liverpool manager is not just about winning matches; success is not simply defined on either acquiring trophies or finishing in the top four of the Premier League, depending on where priorities lie. There is far more to managing Liverpool than simply managing a squad of players.
Every word, spoken or not spoken, is forensically examined. How you dress, talk and interact with players on the touchline is open to analysis, sometimes even mockery. There are traditions to adhere to, a culture over half-a-century old to integrate into immediately.
This is Anfield, the sign says. This is not Swansea, where he encouraged supporters to dress as Elvis Presley on the final day of last season; any suggestion of fancy dress shenanigans would be met with derision and disbelief at Anfield. This is not Watford or Reading, where pride in defeat is seen as a virtue. Defeat is not an option, rightly or wrongly, at a club like Liverpool.
That is not to disrespect Swansea, Watford or Reading -- indeed, the stiff upper-lip and draconian nature of the Kop is not something to always celebrate. But this highlights the vast canvas which must be covered when at a club like Liverpool. It becomes even harder to do it at the first attempt.
Some of this is out of Rodgers' remit -- something he has learnt that as the season has progressed. It is not only about how his side perform, but how his rivals perform alongside them. Focusing on training and coaching the team, as once uttered infamously by Rafael Benitez, is no longer enough.
Comparisons are made consistently between his first year in charge and that of Andre Villas-Boas' as Tottenham manager; periods are defined in relation to how well they match up to rivals Everton; no matter where they finish and with how many points, it will still be lower than Manchester United.
It is a tricky juggling act for the manager, particularly with extra problems thrown at him from those who watch with one eye red-tinted and the other green. The past 10 days has tossed him a few more things to keep airborne in this never-ending circus.
All expectations of next season have been jolted, the landscape of the league viciously shaken: Manchester United will have a new manager for the first time in 26 years, and with it, an uncertainty about how the predecessor will follow Alex Ferguson; less money, more problems for Everton as well, who go through the same process as United, albeit with David Moyes sitting in his dugout for just 11 years.
With Roberto Mancini also gone from Manchester City and Chelsea waiting to appoint Jose Mourinho, four of this season's top six will have new managers in August. For Liverpool and Rodgers -- whose desire for the top six and more is matched only by its necessity -- this changes everything. Maybe.
It would be easy to overstate the importance of the fluctuating dugout dynamic, a summer-long game of musical chairs to the tune of breaking news and hysteria.
Perhaps Moyes will grasp the baton of hellfire and run twice as fast as Ferguson; maybe Mancini's absence will settle Manchester City rather than unsettle and Mourinho will stabilise, not destabilise at Stamford Bridge. Everton, meanwhile, might find another manager capable of squeezing every resource from their small squad, but also end their 18-year trophy drought.
Ifs, buts, maybes. It is that uncertainty that provides Liverpool a bigger incentive than ever before to find the consistency that has been lacking for years; a gap, no matter how small, to target.
They, more than most, will know what instability can do to a club and how it can stagger the status quo. What came to be regarded as the Premier League's top four in the late 2000s was dismantled under the ownership of Tom Hicks and George Gillett, a reign akin to a troublesome toddler picking the legs from a prone spider, each yank another step back from where the club once was and wanted to be once more.
The shake-up at the top is an opportunity for Liverpool, perhaps -- but yet, potential hindrance for Rodgers as well. Expectancy from the Liverpool fans has been raised now that Ferguson, he of 38 trophies, has been replaced by the trophy-barren Moyes. The tightrope Rodgers has walked for the past year just became tighter but shorter; the juggling act has now become far more intricate with less room for failure.
This is what it is like to be a Liverpool manager in recent times. Even after a 3-1 win at Fulham, eyes were cast elsewhere. Thoughts turned to the potential fall of United and Everton over the next year, five years, decade; thoughts, inevitably, turned to whether Rodgers is the one who could take advantage of a hypothetical collapse from above. In a summer of debate, this will be another one. Some may even call for him to be replaced -- nothing new there, though nothing will come of it. Fenway Sports Group fully support their man.
The compelling counterpoint comes in recognizing the benefits consistency brings. It's not as if Liverpool has thrived since a revolving door was seemingly installed outside Melwood, after all. While four of the six teams above them adjust to new regimes, Liverpool is a side that have started to adjust -- they have lost just two games in the past 15 and embraced a new-found pragmatism. Daniel Sturridge and Philippe Coutinho's January arrivals have also aided a clear improvement from a poor start.
Consistency is good, but being consistently good is what will define next season. It might even imperative for Rodgers. This summer's transfer window looked to be a significant one for Liverpool, but now it appears of optimum importance.
In this upcoming climate of potential uncertainty and possible transition, the gap between Liverpool and the top four -- currently 11 points -- can be overhauled. But within the melting pot of Mancini, Manuel Pellegrini, Moyes and Mourinho, there are no guarantees bar one: Rodgers, his squad and the club in general will be expected to overhaul that gap regardless of how others perform.
That presents a rare moment for him to simply worry about what he does with his players, for no one can predict what is to come from most of the teams above him. If he is to learn one thing now, it is to enjoy such strangeness while he can, because there will be great expectation upon him and his side next season.