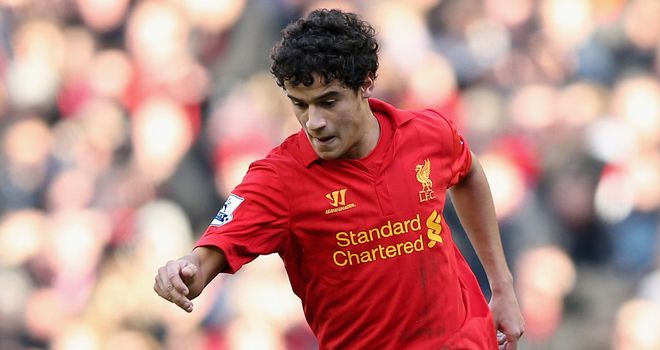 Liverpool midfielder Philippe Coutinho admits he has already forged an understanding with fellow January recruit Daniel Sturridge.
The Brazilian midfielder joined Liverpool from Inter Milan in an £8.5m deal, while striker Sturridge also arrived at the start of the year in a £12m switch from Chelsea.
Both players have already started repaying their sizeable fees with some impressive displays as Coutinho's creativity and Sturridge's goals have given Liverpool fans some fresh hope for the future.
Coutinho has been impressed with the England player's clever movement and believes they have developed a fruitful partnership.
"He is an excellent player and very intelligent. He has a lot of technique and scores a lot of goals - I am very pleased to play alongside him," Coutinho told the club's official website.
"Luis and Sturridge move a lot and that makes things easier for the player with the ball - we can put the ball in the empty space and I think that makes things easier for the player that plays behind them.
"By playing with huge players like the ones we have at Liverpool I can learn a lot and I hope to be able to learn more every day to get better and better."
Coutinho's ability to prise open defences was evident in last weekend's 6-0 thrashing of Newcastle and he relishes the chance to create goals for his team-mates.
"I believe the game was very important, all of the players played well and we achieved a very important result," he said.
"I believe my performances have got better and I think it was my best game here. I hope that I can continue to improve.
"I love to create assists. When you play up front you want to create chances, either for yourself or your teammates, and score goals. I hope to help the team by doing this."