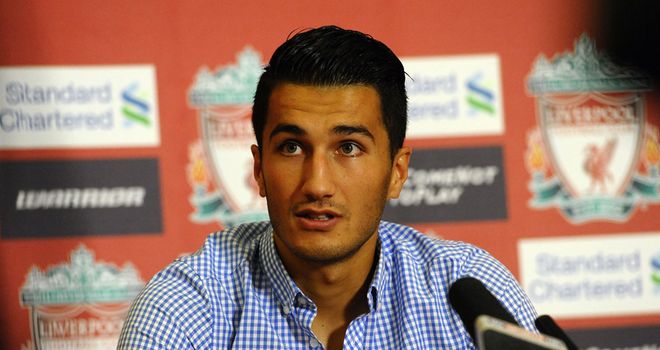 Nuri Sahin has hit out at suggestions he joined Liverpool for the money by outlining the reasons for his switch to Anfield.
Turkish midfielder Sahin has come to the Reds on a season-long loan deal from Real Madrid and is in contention to make his debut against Arsenal on Sunday.
He says he had offers from elsewhere but decided to make the move to Merseyside because he has faith in Brendan Rodgers and wants to play regularly.
The 23-year-old, who struggled with injuries last season after joining Madrid from Borussia Dortmund, is angry at claims his switch was financially motivated.
"You don't know me very well if you think I would go anywhere for money," he said.
"If it was about money, I wouldn't be here.
"I had a lot of offers that would have allowed me to earn three times as much as I will earn here.
"I don't care about money. I know that I will earn a lot of money in my career, if everything goes well.
"The only reason I'm here is that I know I can play football here. I have a manager who trusts me and the way I play, and that I'm at a huge club."
Sahin is confident Liverpool can improve under Rodgers after working in a similar set-up during Jurgen Klopp's reign at Dortmund.
"We were successful at Dortmund because we were a team," said Sahin. "In the first season under Klopp we were sixth, then fifth.
"Then we were champions and last season Dortmund did it again.
"That's because we had a long-term project. Brendan wants to improve Liverpool the same way and I think there will only be one way under him and that is up."