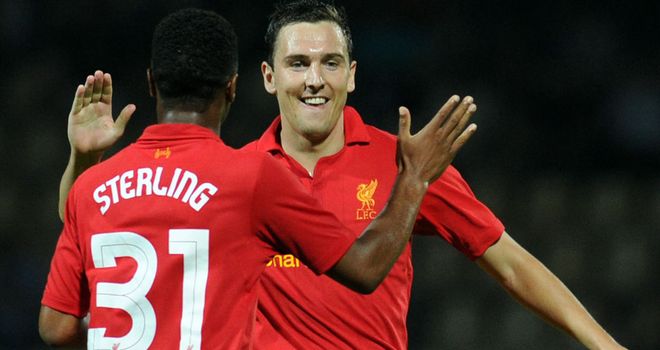 Stewart Downing could have a Liverpool future as a left-back, according to Reds boss Brendan Rodgers.
The £20million signing from Aston Villa has struggled at Anfield since his arrival last summer and has been usurped from his left-wing role by 17-year-old Raheem Sterling.
But Rodgers used Downing at full-back against Hearts in the club's Europa League play-off and is planning a new role for the 28-year-old England international on a long-term basis.
The Liverpool boss said: "I think it's a big possibility that he can play there. If you look at the modern day full-backs, like Jordi Alba and Ashley Cole, Ashley was a centre-forward.
"When I bring young players through, I will always bring attackers because they can move back.
"When Middlesbrough reached the UEFA Cup final against Sevilla, Stewart played left-back on that run, and sometimes that can release pressure on players.
"His job at the top end of the pitch is to create and score goals.
"But you looked at him in the half hour against Hearts, and he served the ball well, he got forward and defended a couple of times. That's important. I think he's good enough for that.
"I don't like to just give up on players, I always look at different ways you can play them.
"Stewart has a future as an attacking player but I have had a good chat with him on the role and he's excited about it.
"That's the biggest thing, because there is no point putting a player into a position he doesn't want to play.
"But when you speak to someone and tell them what the future could be, along with the qualities that he has, there is no doubt that in the modern game, he could play that role."