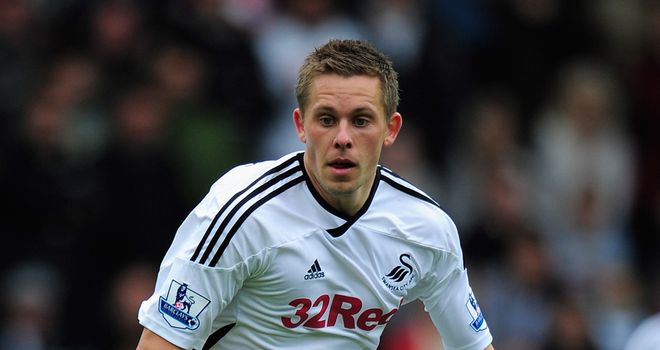 New Liverpool boss Brendan Rodgers has admitted he is ready to steal Gylfi Sigurdsson from under the noses of former club Swansea.
Swansea are close to securing the signing of Sigurdsson, who impressed on loan last season, after agreeing a fee with Hoffenheim and personal terms with the player.
However, Sigurdsson has yet to put pen-to-paper on a deal with Swansea alerting Rodgers to make a move to bring the Icelandic international to Anfield.
As part of Rodgers' move to Liverpool, Swansea has agreed a deal whereby the Reds cannot sign any Swansea players in the next 12 months, but the same does not apply to Sigurdsson.
Rodgers admits that he will allow Sigurdsson to speak to Swansea first, but that if he becomes available he will try to lure him to Merseyside.
While Rodgers fully respects Swansea's wish to conclude a deal, he says he feels compelled to pursue a player whose career has flourished under his charge.
"If he [Sigurdsson] comes onto the market, I have to be interested," said Rodgers
"His initial chat has to be with Swansea, because he had a good period there.
"I said when I had the chat with the chairman (Huw Jenkins) the other day, when I told him I was going to go to Liverpool, that Gylfi came to Swansea because I was there as manager.
"I said to Huw if I speak to the kid I'll tell him to make sure he certainly comes down and speaks to the new (Swansea) manager, whoever that is, and that if he's still not comfortable with that, he's in the marketplace then - and then I have to look at him."