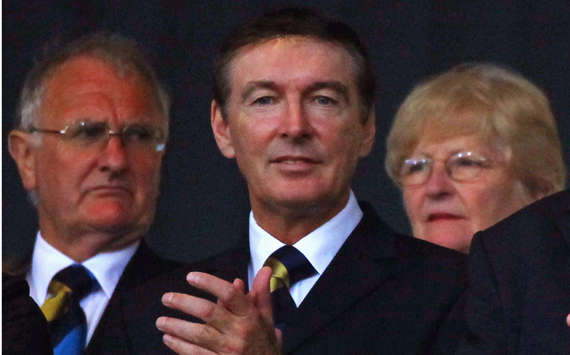 Former Rangers director Gordon Smith has formally withdrawn his interest in becoming Liverpool's new director of football.
The Anfield club's structure is set to be altered in the coming weeks and the Merseysiders' American owners are keen to introduce three sporting directors to work above new manager Brendan Rodgers.
Names such as Louis van Gaal have been touted as potential replacements for the recently departed Damien Comolli, but former Scottish Football Association chief executive, Smith has ruled himself out of consideration for the position according to his agent Jonathan Hope.
"My client Gordon Smith was in talks via myself for the Liverpool FC director of football role, although Gordon has had no talks with the club, I have," Hope told Sky Sports.
"I have spoken with the general manager on several occasions and I have decided to pull my client away from the role as we have options in the Middle East."
Despite Smith's advisor having a heavy involvement with Liverpool in recent times, he does not believe the role to be in the best interests of his client.
Hope continued: "Liverpool has become a second home to me because of my involvement with Vaughan Boxing but as a football prospective I believe this would be the wrong move for my client.
"I am not going to hold any more talks about Gordon Smith joining Liverpool Football Club.
"We have options abroad and I will spend a few days with Gordon and discuss what's best for him and his family."
Smith has backed his agent to find him a new role in football after he left his post at the Scottish Football Association in 2010.
"Jonathan Hope has been working non-stop to find not just a job, but the right job for me," he said.
"That's important and I commend him for it as that's what being a real agent is all about - client care.
"I respect whatever Jonathan Hope decides."