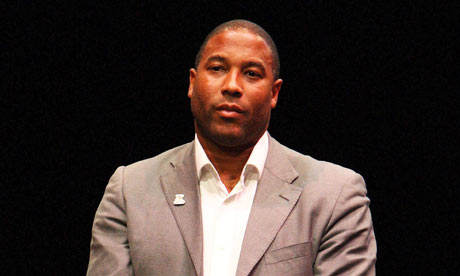 John Barnes spoke out in defence of Liverpool Football Club on Saturday, telling ESPN that the Merseyside club are no more racist than any other in the country.
Liverpool have seen their reputation damaged by the drawn-out Luis Suarez saga, which has seen the Reds defend their player despite a guilty verdict of racial abuse delivered by the FA. Kenny Dalglish and his men have been extremely public in their defence of the Uruguayan, wearing t-shirts to show support, which has drawn widespread criticism.
Compounding the issue is an incident that took place during their FA Cup third round win against Oldham, when Tom Adeyemi was reduced to tears by an alleged moment of racist abuse from a section of the Anfield crowd. A police investigation has since been launched, and while Barnes believes there will prove to have been a racial element to the incident, he insists racism is not only Liverpool's problem.
"I have no doubt that somebody hurled racist abuse at him, and it really hasn't come at a good time for Liverpool. However, I'm not naive enough to think incidents like this don't happen at pitches across the country every Saturday," Barnes told ESPN.
"I for one never believed that racism ever went away. I wouldn't say it happens at Liverpool more than anywhere else. The fact that he heard it means there is an investigation and Liverpool will co-operate fully."
Liverpool confirmed in a statement on Saturday that they will aid the police probe, saying on their official website: "Liverpool Football Club continue to work closely with Merseyside Police to establish all the facts surrounding the incident that occurred during last night's game.
"We take this matter extremely seriously and have today provided the police with the evidence we currently have available to us. This includes CCTV coverage and still photography of what we believe to be the relevant part of the stadium, statements from matchday stewards in that area and full access to all the footage captured by the cameras filming the match for our in-house TV operation."
The general consensus, certainly in parts of the British media, appears to be that Liverpool have failed to react in the right manner by defending Suarez following his clash with Patrice Evra. However, Barnes does not believe his former club have done anything wrong.
"Unfortunately for Liverpool, the perception is that Liverpool are being soft on racism. That is far from the reality," Barnes said. "If you want to talk about the Luis Suarez incident, the perception is that because Liverpool didn't castigate him, they are condoning it. The reality is they firmly believe Suarez is innocent, so while they don't accept the punishment, they don't agree with the verdict.
"They think the verdict was flawed, and they are backing Luis Suarez 100 per cent. Suarez himself feels he's done nothing wrong, in terms of the word he said, he also says there are things he didn't say, the claim that he does not talk to black people he says he 100% did not say.
"Liverpool has to be seen to be backing him if they believe that is the case."