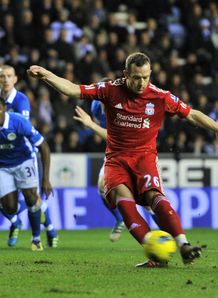 Another busy week for Liverpool saw a dominant away victory at Aston Villa followed (almost inevitably) by a frustrating stalemate with the Reds' perennial party poopers, Wigan Athletic.
Sandwiched in between those encounters was an FA hearing that resulted in an eight match ban for Luis Suarez, for 'racially abusing' Patrice Evra.
This is a sensitive issue that is bound to divide opinion, but the club's unprecedented reaction to the punishment bestowed on Suarez, not to mention Kenny Dalglish's unwavering support would suggest that the incident in question owes more to cultural differences than racial abuse.
It is unthinkable that a man with the integrity of Dalglish would put his reputation on the line, if the club's opinion was any different. Liverpool look set to appeal, which some would see as risky, given that his ban could be extended if the ruling was upheld.
The fact remains though, if the player and the club believe that justice has not been done, the length of ban becomes an irrelevance. They must seek to clear his name and in doing so, restore the club's reputation for zero tolerance on racism. Any suggestions that Suarez would not be in the right frame of mind to play against Wigan Athletic were swiftly dispelled as Dalglish kept faith in his talisman, who dually rewarded King Kenny with another committed performance.
The Uruguayan possesses tremendous mental strength; the type of which separates the great players from the good. There was never any chance of Suarez letting Kenny down with his performance. Another Liverpool forward who never lets the side down is Craig Bellamy, who was instrumental in the early goals that secured another away victory for the Reds at Villa Park.
Bellamy scored the first and delivered a mean cross onto the head of Martin Skrtel for the second; helping to cement a man of the match performance from the Welshman. With Villa looking low on confidence, Liverpool dominated possession and continued to carve out chances.
Only the woodwork would deny Suarez a goal, as he first rattled the cross bar before stroking an exquisite chip against the inside of the post. Jonjo Shelvey made his first start for the club and rewarded Dalglish with an all action display in front of the influential Charlie Adam.
Never shy in front of goal, Shelvey had five shots and on a couple of occasions took up great goal scoring positions in the box. Had some of his team mates been a little more generous with the ball he may well have ended up on the score sheet.
Ultimately, Liverpool would have to settle for 2-0 and a satisfying away win.
Roll on three days to Wigan and an all too familiar pattern begins to take shape. Liverpool are fast out of the blocks, passing the ball well and creating great chances straight from the off.
Despite this impressive level of industry, it doesn't yield any goals. Glen Johnson failed to finish off another fine move; denied by the excellent Wigan stopper, Ali Al Habsi. Al Habsi would be a thorn in the Reds' side all evening.
Possibly Liverpool's most unwanted statistic this season is their haul of missed penalties.
The curse would strike again here as Charlie Adam (the only Liverpool player to score a penalty this season) joined Suarez, Dirk Kuyt and Andy Carroll on the list of spot kick failures. Such a record could prove costly for Liverpool as competition for Champions League qualification is stiffer than ever.
Liverpool was driven on late in the game by their incessant attacking left back Jose Enrique. The Spaniard has proven to be one of the best acquisitions of the season and has brought great dynamism to the side.
Quite how he has never been called up for the Spanish senior side is a mystery. His technique, ball retention, strength and pace are all second to none.
Despite his endeavor, a goal remained elusive and Liverpool were forced to settle for a point on what has become a bit of a bogey ground for the Reds.
Frustration at draws this season has been diluted by the level of Liverpool's performances. Dalglish has crafted an attacking side that plays attractive high tempo football, passes the ball well and presses high up the pitch when they don't have possession. Team ethic is a good as it's been since King Kenny's last rein at the helm.
Its great news for Liverpool supporters and has given fans a new lease of life this term. The goals for record is one that is in need of improvement but this is something Dalglish will be all too aware of. He will get it right.
Liverpool finish the year with two home games over Christmas against Blackburn Rovers and Newcastle United, before starting the new year with a crunch clash at Manchester City. With seven fixtures in January, the depth of the squad will be tested to the limit.
This is a great chance for players who don't start every week to stake their claim for a first team place. With Luis Suarez suspended (subject to appeal) it will provide an opportunity for Andy Carroll to prove his worth and put the doubters at bay.
Carroll may not have enjoyed the greatest of starts to his Liverpool career, but if he seizes his chance and starts hitting the back of the net, he will have provided an antidote to the team's achilles heel.
That should be top of everyone's Christmas list.