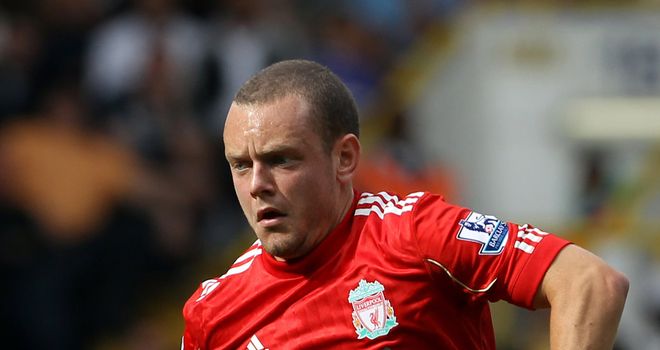 Liverpool manager Kenny Dalglish is hoping Jay Spearing learns from his sending off against Fulham.
The Reds midfielder was dismissed in their 1-0 defeat at Fulham for a sliding challenge on Moussa Dembele.
Dalglish felt Spearing may have been slightly over-zealous, although he does not believe there was any malice in the challenge.
The Anfield chief does not feel Spearing needs to change his game greatly, adding he will benefit from his experience.
"There was no maliciousness in his tackle. He was totally focused on winning the ball," explained Dalglish.
"He did win the ball but his momentum came through and made contact with Dembele.
"It was maybe over-enthusiasm but that is not something you'd complain about in football - at that age you'd expect him to be.
"I'm sure he'll be more knowledgeable for his experience but there is nothing he needs to change greatly.
"Everybody's character is different but character is what makes you successful - and the wee man has certainly been successful here.
"We don't intend, or need, to change the boy's character.
"He just needs to be a bit more mature and I'm sure the three games (suspension) has taught him that."
Dalglish had been pleased with the midfielder's form and he is hoping he can recapture his displays following suspension.
"It was disappointing to lose him because he was doing really well," said the Reds boss.
"He's served his punishment and maybe that's an advantage with the games coming quite quickly.
"But he's got nothing to prove to us - we know what Jay can do, we know what he's about and he's done very well for us in the past.
"There is no reason to think he's not going to do well in the future."