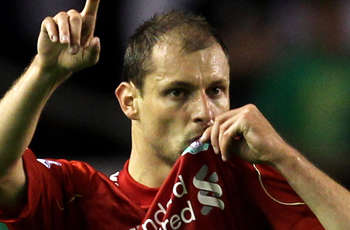 Serbia coach Vladimir Petrovic says Liverpool forward Milan Jovanovic deserves more game time at Liverpool.
Jovanovic has endured a difficult start to his Liverpool career since joining on a free transfer from Standard Liege in the summer.
The 29-year-old was signed by former Liverpool manager Rafael Benitez and has since struggled to convince first Roy Hodgson and now Kenny Dalglish of his abilities.
Jovanovic played an instrumental role in Serbia's victory over Northern Ireland in Friday night's Euro 2012 qualifier, played behind closed doors in Belgrade.
"I am not surprised by Milan. I know he is a player who can play at a very high standard," Petrovic told reporters.
"It is impossible that such a good player would forget how to play football.
"He is special and he had a special desire to play for us here.
"In the past he has been one of our best players and I think he deserves more chances [with Liverpool]. If he gets chances he will soon be on the same level again."
Despite Jovanovic's lack of minutes at Anfield his international manager is not encouraging him to leave, saying: "Only he will answer whether he should leave or not. I don't want to speak about that."