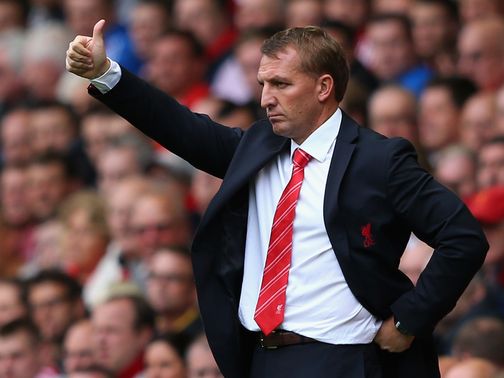 Liverpool manager Brendan Rodgers is not worried about his side's second-half form this season.
The Reds have not scored after half-time in the Barclays Premier League since May 12 at Fulham, and that has contributed to them dropping four points in their last two matches - against Swansea and Southampton.
And, while Rodgers cannot explain why they have not scored any later than the 37th minute, he is not reading anything into the statistic.
"It is well documented we haven't scored a goal (in the second half) and sometimes that trend surprises you when you hear that," he said.
"Probably in some of the games in the second half we have sat a bit deeper and have seen out the results, but Swansea we didn't.
"It doesn't concern me. It is something we will work on.
"As the game (the 1-0 Capital One Cup defeat at Manchester United) went on the other night, I thought we were going to get that goal, but I can't say I'm overly concerned."
Rodgers is certain, however, it is not a fatigue issue.
"We have obviously had players who have come back and were gaining fitness," he said.
"Overall, the condition the team is in is very good.
"Sometimes it (not scoring) is just how it rolls out in the early part of the season, and for us we just need to keep working.
"Throughout the team we had good performances the other night. We just need to keep believing, keep our confidence and the wins will come."
Defensive lapses at corners have resulted in two single-goal defeats in their last two outings, and Rodgers knows that has to improve, although overall he does not see a great deal wrong with their displays.
"I think the performance against Southampton wasn't so good. We weren't as proactive in the games as we normally were," he added.
"I thought our performance at Old Trafford was excellent. The only negative was we conceded a very poor goal from a corner, but apart from that I saw a lot of the characteristics from the team that I would want.
"Our passing was good, the speed of our game was crisp. We sit (fifth) in the league on the same number of points as Manchester City and Chelsea and we are very determined to continue with a very good run in the league at the weekend.
"It (the team) will always be evolving, You can never be satisfied because you are always looking to improve.
"The consistency of the group has been good for the last seven or eight months and we've had very few blips.
"I expect us to rebound back and go again."
Liverpool faces Sunderland, a team rebounding from the sacking of Paolo Di Canio, at the Stadium of Light on Sunday.
"There is an upturn you normally find when a manager comes in," he said.
"It is unfortunate Paolo lost his job. They had a victory in the week (in the Capital One Cup) and obviously Kevin Ball (caretaker boss) will go into the game looking for the players to put on a performance again.
"We know the capabilities of Sunderland and I am sure they will come out fighting for a result.
"For us, in order to continue climbing, we are determined to go and win."
Rodgers has been impressed with the performances of Martin Skrtel since his return to the side for the league victory over Manchester United earlier this month following an injury to Kolo Toure.
The Slovakia defender's opportunities appeared limited after the arrivals of Toure and Mamadou Sakho, but he has shown his battling qualities to hold down a regular place for the last four matches.
"I thought he was brilliant the other night. I called him into the office to recognize his performance was excellent," the Northern Irishman said.
"He defended crosses into the box, he was clever in his defending.
"It was great credit to his professionalism when he wasn't in the team he continued to work and was fighting every day to show he could play in the team.
"It was always the case when you got your opportunity you had to grab the shirt and he has done that and played very well."
Asked what had changed for Skrtel, he added: "Maybe before, he was more of a marker in terms of one-versus-one defending. He is a real strong competitor.
"For how we wanted to play, it was that balance between being aggressive and reading the game and the ability to play, and I think he has shown he is a terrific player and that was never in doubt.
"But there were other players here and we needed other characteristics in the team."